The WFS Shipments Picklist Module is located under the Fulfillment tab. In this module, you can pick units for WFS Shipments.
Searching for WFS Shipments
Navigate to the Fulfillment tab and select the Search icon on the WFS Picking module.
There are two search modes available:
Search All – searches all WFS Shipments that have been submitted to Walmart (shipments need to have a status of Pending Shipment Delivery). This mode includes optional filters for warehouse and sku.

Search By ID – search for and open a specific WFS Shipment using the ID from SellerCloud.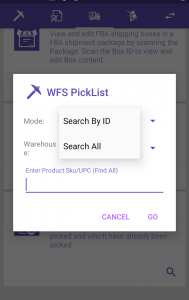 You can also add filters for inventory status, picking status, and region by clicking the filter icon either on the Fulfillment tab, on the WFS Shipments List, or in the shipment itself.
---
Picking WFS Shipments
All products in the shipment will be listed, each one displaying the qty picked and total qty required.

Swiping an item reveals shortcuts to other actions:

Bins – here you can find all the bins where the product currently has inventory

Info – this will open up the product info module

Assemble – to assemble a kit required for a WFS shipment

Labels – print labels for the product

Scan or select an item.

Scan or enter a bin, or select from the list of suggested bins.

Scan units to add to the picked qty, or enter the qty to pick manually.

If applicable, tap Replace to search for valid replacements.

If the Lot Number workflow is enabled and the product is marked as expirable, you will need to select a lot number.

Press Pick to update the picked qty on the shipment.
---