Overview
Data entry errors can often result in duplicate product identifiers. It is essential to reconcile them to prevent confusion and maintain accurate product records. 
The SKU/UPC/Alias Reconciliation report compares and matches the SKUs, UPCs, and Aliases associated with each product within the Skustack Admin. The purpose of this report is to identify and resolve any discrepancies or inconsistencies in these identifiers.
---
SKU/UPC/Alias Reconciliation Report
To access the report:
Navigate to the Skustack Admin portal at https://xx.skustack.com (replace "xx" with your server ID or team name).
Enter your login credentials.
You will see four panels with product-related information. Refer to the details below for more information about each panel.
Each panel identifies duplicate data and allows for quick corrections by clicking the Pencil icon in the grid. You can also click the product links to view each product's individual details page. In addition, you can click Actions and select Export as Excel file to export the data to a spreadsheet.
Duplicate UPC
The Duplicate UPC panel:
Shows products with matching UPCs

Shows two products per row

Shows both products' SKU and UPC:

PRODUCT 1 SKU

PRODUCT 1 UPC:

Matching

PRODUCT 2 SKU

PRODUCT 2 UPC:

Matching

Click the

Edit

icon on the panel's top right to change

PRODUCT 2 UPC
Duplicate UPC – Based on SKU
The Duplicate UPC Based on SKU panel:
Shows cases where one product's SKU matches another product's UPC

Shows two products per row

Shows product 1's SKU and product 2's SKU and UPC:

PRODUCT 1 SKU:

Matching

PRODUCT 2 SKU

PRODUCT 2 UPC:

Matching

Click the

Edit

icon on the panel's top right to change

PRODUCT 2 UPC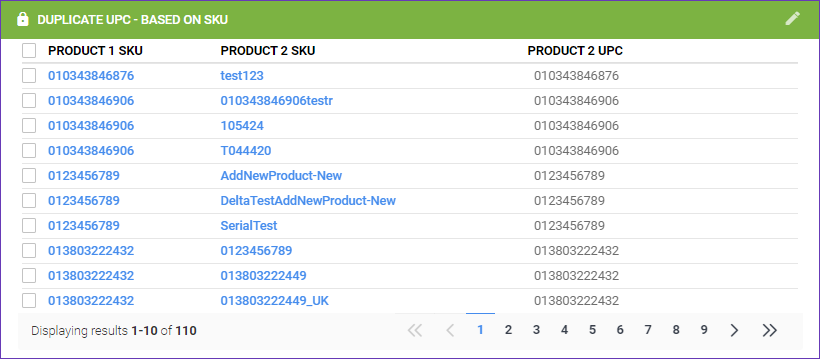 Duplicate Alias – Based on UPC
The Duplicate Alias Based on UPC panel:
Shows cases where one product's UPC matches another product's Alias

Shows two products per row

Shows product 1's SKU and

UPC

and product 2's SKU and

Alias

PRODUCT 1 SKU

PRODUCT 1 UPC:

Matching

PRODUCT 2 SKU

PRODUCT 2 ALIAS:

Matching

Click the

Edit

icon on the panel's top right to change

PRODUCT 1 UPC
Duplicate Alias – Based on SKU
The Duplicate Alias Based on SKU panel:
Shows cases where one product's SKU matches another product's Alias

Shows two products per row

Shows product 1's

SKU

and product 2's SKU and

Alias

PRODUCT 1 SKU:

Matching

PRODUCT 2 SKU

PRODUCT 2 ALIAS:

Matching

Click the

Edit

icon on the panel's top right to delete

PRODUCT 2 ALIAS

---