Overview
One Way Transfer is a simple way to receive multiple items/units into bins or to remove them from bins. While this can be done individually from the Product tab through a simple adjustment, a One Way Transfer groups the items together, making it easier to trace and filterable by the Transfer ID.
One Way Transfer differs from Warehouse to Warehouse Transfer in terms that you don't have to know where your transfer is coming from when you transfer inventory in your warehouse as well as when you transfer from your warehouse, it doesn't matter where it's going to.
---
Creating a new transfer
Follow the steps below to  transfer products:
Access the Transfers module.
Tap the plus sign in the One Way Transfer section or search the existing transfer.
Select the transfer type: TransferIn or TransferOut
Name the transfer and enter notes if applicable.
Tap the Create button.
When a transfer is created, you can scan products to add the transfer, or swipe the header down to enter a product manually.
Scan/Enter the quantity and enter a bin.
Tap Add.
Continue scanning/entering for all SKUs in Transfer.
When done, press Transfer at the top to complete the transfer. A success message will display, and the movement will be noted by type and user in Sellercloud.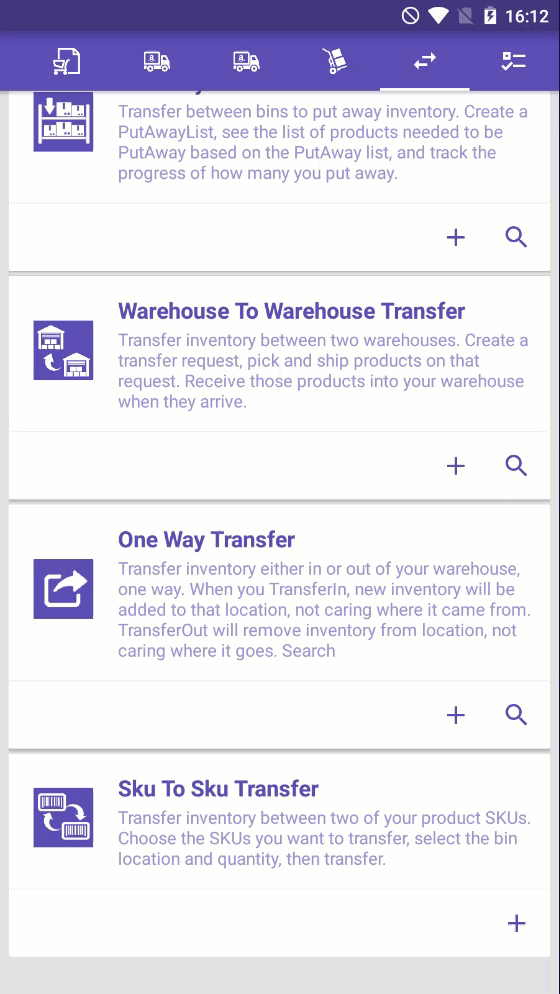 ---
Reversing a transfer
In case you have transferred something by mistake, you can reverse your transfer. This action will return the quantity transferred out and remove the quantity transferred in.
Click on the SKU.
Select the Reverse action. You can also delete an SKU you don't want to be transferred.
---