Receive PO Module
The Receive PO module enables you to receive PO qty directly into bins.
SKU qty on a PO can be received with 2 options:
Search by ID - Receives a single PO.
Search All - To receive a single product in multiple PO's. You will be able to receive an entire PO in this mode too.
---
Search By ID
Select "Search By ID" in the Mode dropdown.
Enter/Scan a PO ID number.

Select a product from the grid or scan a product's barcode.
At the top of the following page the unreceived unit count will display. That number updates as units are received.

Scan in the units or just enter a quantity.
If the PO Receive setting "Require Serial Number When Picking" is enabled and the product is enabled to require serial scan for Scan and Ship (In SellerCloud > Product Toolbox > Shipping Preferences) the Scan field will display "Scan Serial Number" and you will be required to enter the serial number to receive units for that product.
Enter a receiving bin. There may be a suggested bin you can select. The suggestion is based on where the product is currently stored and on the unit capacity set on the bin.
You can also enable setting Use Receiving Bin to allow a receive only into a "Receiving Bin" This virtual bin is created by SellerCloud, and allows you to receive inventory - thereby being available for sale - without having to first shelve the items. You can use the Put Away module to transfer inventory to their actual bins.
Press Receive and the product's quantity will update immediately in SellerCloud.
When the PO is fully received a "Fully Received" notice will display at the top of the page.
Read about PutAway here.
---
Search All
Select "Search All" in the Mode dropdown
Enter a SKU and/or select a vendor.

Press the GO button to retrieve all POs.
A warehouse management setting controls to retrieve POs with an "Open" status only.
A list of POs with the SKU will be returned. Only POs generated for the warehouse with which your Skustack has been associated will display.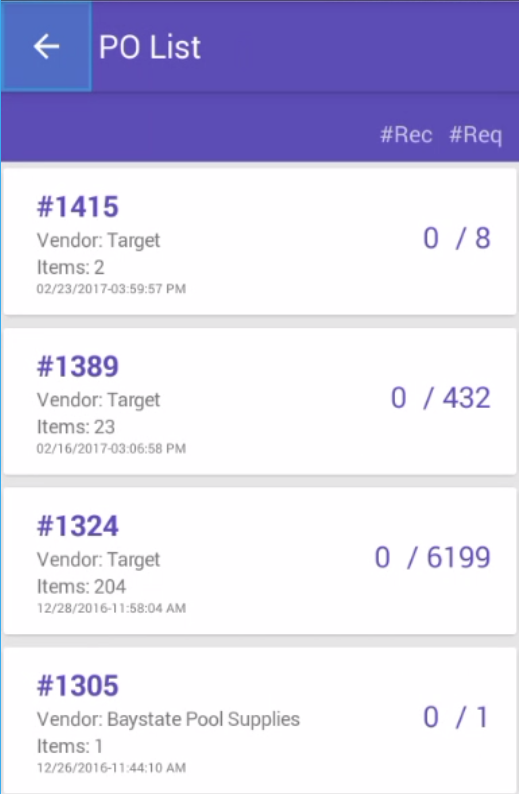 Select a PO.
Scan or select the product.
Continue as above in "Search by ID" mode.
You can go back to receive more product in the PO or go back to receive the SKU in another PO.
Read about PutAway here.
---
---